I assume that if you're a reader of my blog, you probably know that the shit has just abruptly hit the fan. (If not, just hop on your favorite poker forum or media outlet or twitter or whatever, and see for yourself.) A lot of you probably have a significant amount of money online; I do too.
So, first of all, don't freak out, not because there's no reason to freak out–there is–but because freaking out's no fun and won't help. You're not going to learn anything that's going to suggest a course of action to change the current situation. So, it's Friday; go drink your favorite intoxicating beverage with people who don't play a card game for a living and talk about things other than card games.
That said, you're probably not gonna take me up on that advice, so here are my thoughts to aid you in your obsessive sweating and to try to disspell some of the incredibly stupid rumors that are floating around. This is going to be a hastily written list of thoughts that I write up before I take my own advice and quit thinking about this for the night.
What Just Happened?
The DoJ and the FBI have indicted the main guys behind Stars, FTP, and UB/AP. They've also indicted a bunch of payment processors and made at least two arrests. They've asked Interpol and various governments to extradite the owners of the sites. They've redirected the .com domains of all the affected sites to an FBI warning, and they've seized a boatload of money (no number yet, afaik).
They did NOT do this because the sites were spreading online poker (which the DoJ still maintains is illegal under the Wire Act, but which the sites all argue is not). What happened is that banks and credit card stopped accepting transactions related to online gambling. A lot of banks stopped way before UIGEA, and then when UIGEA came along and spelled out that the US government didn't want them accepting those transactions, and things got progressively harder for US-facing poker sites. As a result, the sites and their payment processors resorted to outright fraud; they systematically lied to banks and even bribed some to keep their money moving.
This is likely a multibillion dollar case of bank fraud, so it's absolutely not a joke to the DoJ. It shouldn't be either; the DoJ can't just accept such ridiculously blatant crimes on such huge scales.
Some quotes from the DoJ press release:
Because U.S. banks and credit card issuers were largely unwilling to process their payments, the Poker Companies allegedly used fraudulent methods to circumvent federal law and trick these institutions into processing payments on their behalf. For example, defendants ISAI SCHEINBERG and PAUL TATE of PokerStars, RAYMOND BITAR and NELSON BURTNICK of Full Tilt Poker, and SCOTT TOM and BRENT BECKLEY of Absolute Poker, arranged for the money received from U.S. gamblers to be disguised as payments to hundreds of non-existent online merchants purporting to sell merchandise such as jewelry and golf balls.
For example, a PokerStars document from May 2009 acknowledged that they received money from U.S. gamblers through company names that "strongly imply the transaction has nothing to do with PokerStars," and that PokerStars used whatever company names "the processor can get approved by the bank."
By late 2009, after U.S. banks and financial institutions detected and shut down multiple fraudulent bank accounts used by the Poker Companies, SCHEINBERG and BITAR [owners of Stars and FTP respectively] developed a new processing strategy that would not involve lying to banks. PokerStars, FullTilt Poker, and their payment processors persuaded the principals of a few small, local banks facing financial difficulties to engage in such processing in return for multi-million dollar investments in the banks. For example, in September 2009, ELIE [a payment processor] and others approached defendant JOHN CAMPOS, the Vice Chairman of the Board and part-owner of SunFirst Bank, a small, private bank based in Saint George, Utah, about processing Internet poker transactions. While expressing "trepidations," CAMPOS allegedly agreed to process gambling transactions in return for a $10 million investment in SunFirst by ELIE and an associate, which would give them a more than 30% ownership stake in the bank. CAMPOS also requested and received a $20,000 "bonus" for his assistance. In an e-mail, one of ELIE's associates boasted that they had "purchased" SunFirst and that they "were looking to purchase" "a grand total of 3 or 4 banks" to process payments.
You don't need to be a lawyer to understand what's going on here. The payment processors AND the sites were complicit in extremely large fraud and bribery operations.
What about My Money?
In the short term, conveniently, you don't really have much choice about what to do on Stars or FTP: Neither of them is letting you cashout or transfer. On other sites, I don't really suggest cashing out because they likely all share payment processors, so it's pretty likely they'll have trouble moving money for the foreseeable future.
As for the long term, I have no clue. I'm worried about my own money, and you've got plenty of reason to be freaked out if you have your own money online. Nobody has any clue what's going to happen right now. It's unlikely that the US government is going to confiscate player funds without planning to give it back, but it might be a long complicated clusterfuck to try to get your money; Neteller took about a year and a half. Stars in particular is quite safe because they keep player funds in segregated accounts.
For AP/UB, I'd be legitimately worried that they'll just run.
The FBI Warnings Are Real, but They're a Symptom, Not the Disease
If you go to Stars, FTP, AP, or UB right now, you may or may not see the following: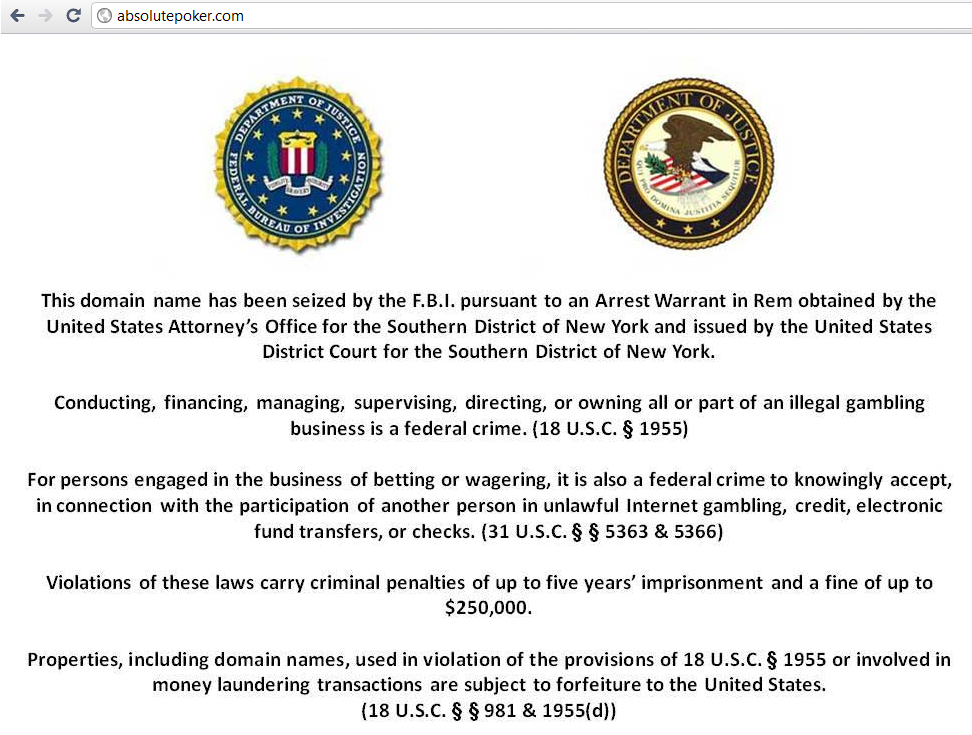 This is because the FBI has changed the DNS on their .com domains. When you type _____.com into your browser, your browser sends that info to your ISP, and your ISP looks up in a database where to get the data from _____.com. All the FBI did was change the database from going to a poker site to going to their warning banner. The reason that some people aren't seeing this is because ISPs update their databases at different times (and not all at once). So, it's not fake, but it's not a big deal.
This Is _____ Doing This for Money
No… no it's not. Vegas casinos, Party Poker, various people in congress, etc. have absolutely nothing to do with this. This is not the government looking for money or anyone looking to improve their lot in any way; this is the justice department of the US government enforcing its own laws.
I'll likely rant more about this specific aspect of this in a future post.
Don't Make Major Life Plans Now
This should be obvious, but everyone is always tempted when the sky falls to immediately start looking for new jobs, new places to live, etc. Take a breather now; make major life decisions later.