In this post I claimed that the distribution in earnings of a NLHE 6-max cash player is essentially normal over a sample of at least thousands hands. I didn't bother to justify my claim because I figured nobody cared. However, for those who do care, here's a quick fudged argument and the real argument:
The Quick Argument
Here, I showed that large-field MTT earnings start to look normal after about 5k tournaments. The second table makes this fairly clear (though not particularly legible unfortunately). I think that it goes without saying that the distribution of earnings from one cash hand looks much more normal than the distribution of earnings from one large-field MTT. (In particular, the skewnessand kurtosis are much lower.) So, it seems pretty safe to assume that cash distributions are essentially normal over a few thousand hands.
This is the argument that I used to justify the use of the normal distribution to myself before making this post.
The Actual Data
Since it came up in the comments, I thought I'd actually check this directly. I grabbed the results from all my hands at NL200 6-max Rush on FTP, which turned out to be 54,250 hands with a winrate of 7.26 bb/100 and a SD of 116.97 bb/100. (I'm a huge lagtard when I play rush. Thus the high SD.) This isn't the greatest sample in the world, but it's fine for these purposes. Here's that distribution, with normal distribution in red: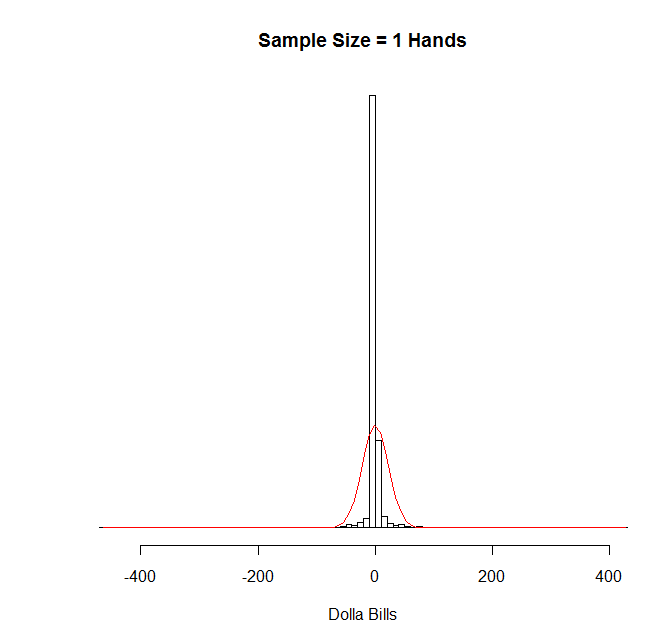 Obviously this is what you'd expect. The vast majority of the time I either earn $0 (the graph is centered in an odd way, so $0 looks negative), lose a little, or earn a little.
Here's 100 hands:
As you can see, it's certainly not normal, but it's gotten a lot closer. The (excess) kurtosis is about 1.1.
Here's 1000 hands:
As you can see, that looks remarkably normal. The (excess) kurtosis is about 0.1 and the skewness is about 0.2. Not bad, eh?
Here's 5000: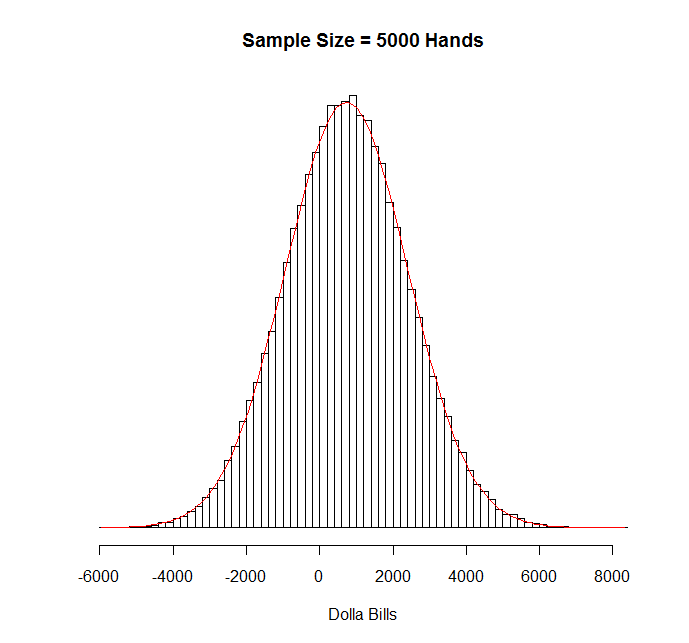 Now that's a normal distribution. I could calculate the skewness and the kurtosis, but since I'm generating these things randomly, I doubt I'd be able to distinguish between this distribution and the normal distribution by that method. Here's the Q-Q plot for completeness: